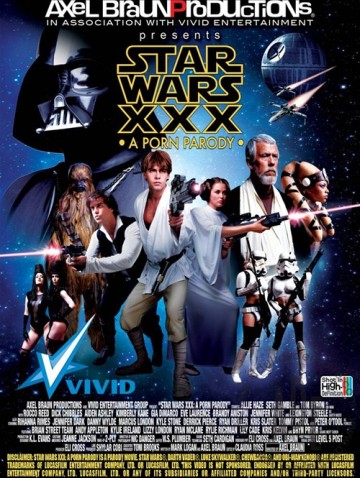 Join Wicked
Join Wicked Pictures and Watch "Star Wars XXX: A Porn Parody" in HD and all the Wicked Pictures movies
Buy Blu-Ray
Buy "Star Wars XXX: A Porn Parody" Blu-Ray / Dvd on Adult DVD Empire - Free Shipping Available
Rental
Free Rental Subscriptions or A La Carte Rentals
Full Review
Making a porn version of Star Wars is one of the best ideas (after porn in general) of all times. I mean, for most guys the whole craze about Princess Leia has always been a sexual thing. For decades, generations of guys, even the ones that are not fans of the original franchise, have fantasized about her (I guess because of that famous revealing costume of hers). She's been a sex-icon for a long time, and she still is. Besides that, lots of girls and women had wet dreams about Han Solo, as well as Luke Skywalker. Star Wars XXX – A Porn Parody (entitled: Episode IV – A New Hole) was the answer to all those people's prayers.
This Vivid's movie is a porn masterpiece. It's a high quality, high budget movie (so forget about cheap gonzo porn) directed by Axel Braun. You won't see just actors simply fucking while wearing costumes from Star Wars movies. No, this is a feature-length movie (around 150 minutes) with a full movie plot (that is spiced up with hardcore sex scenes), great costumes and expensive special effects. Anything less, and the true hardcore fans of the original franchise wouldn't be totally satisfied.
A great thing about porn parody is that you can have fun with any imaginable fantasy. That includes breaking some family ties. Some characters that are relatives in the original story aren't related in this parody, so having sex is completely fine. One of the examples is the first fantasy, which gives us Princess Leia (Allie Haze) sucking Dart Vader's (Lexington Steele) huge black cock, and gagging while giving her best to deepthroat him. Then you'll see Obi-Wan Kenobi (Tom Byron) giving some anal and vaginal poking to an angry female character, Tusken Raider (Jennifer White). After that, you'll get to enjoy a lesbian scene involving Senni and Brea Tonika (played by Kimberly Kane and Aiden Ashley). The following sex scene gives us a foursome with Yerka (Danny Wylde) and Labria (Derrick Pierce) fucking Oola (Rihanna Rimes) and Swilla Corey (Gia DiMarco). At one point Chewbacca (Dick Chibbles) gets busy with himself. Two stormtroopers, TK-421 and TK-422 (Eve Laurence and Brandy Aniston), catch him jerking off, and jump to help him by sharing his cock (orally, vaginally and anally) until he shows his appreciation by rewarding them with his "chewie" (pun intended) load. The final fantasy, or "the grand finale" if you like, is a threesome with Princess Leia getting double penetrated by Han Solo (Rocco Reed) and Luke Skywalker (Seth Gamble).
This movie is definitely a dream come true for the army of Star Wars franchise fans. And hey, if your personal Star Wars erotic fantasy isn't fulfilled, don't despair – maybe they'll make a sequel (or prequel) with your exact fantasy. Damn, if original Star Wars can have so many sequels and prequels, so can this episode of Star Wars XXX – A Porn Parody.
PHOTO GALLERY
OFFICIAL SFW TRAILER
Overview
Based On
Star Wars Saga by George Lucas
Release Date
February 2012
Cast
Allie Haze, Jennifer White, Kimberly Kane, Brandy Aniston, Kylie Ireland, Gia DiMarco, Jennifer Dark, Eve Lawrence, Aiden Ashley, Lily Cade, Rylie Richman, Sky Banks, Lizzy London, Tom Byron, Seth Gamble, Lexington Steele, Kyle Stone, Chi Chi LaRue, Bryn Pryor, Kris Slater, Marcus London, Derrick Pierce, Danny Wylde, Rocco Reed, Dick Chibbles, Brian Street Team, Ryan Mclane, Peter Oh Tool, Ryan Driller, Kris Kelvin, Nick Danger

Who does not know Tomb Raider and its delicious protagonist Lara Croft? Well, no one does not know it indeed. It is impossible to forget that delicious diva that is both famous in the video game and also in the movies. Now, if you would like to enjoy a [...]

Xena is indeed one of the classics of the 90's. There is no single person that has never seen Xena at least once in their lifetimes. Famous in the USA and in several other countries such as Brazil, Xena tells the story of a super sexy female warrior that [...]

If you are a lover of the family guy cartoon then this porn parody is going to make you go crazy! This great production that was brought to you by the so called Full Spread Entertainment is more than ready to impress even the most exigent porn lovers. In [...]